Safer Meds
Secure medicine take-back programs. Pharmaceutical stewardship policies. Reducing medicine abuse & poisonings. Reducing pharmaceutical pollution.
How Community Environmental Health Strategies works for Safer Meds
Supporting expansion of secure drug take-back programs for leftover prescription and over-the-counter medicines to protect our families and our environment.
Providing policy expertise and process guidance to develop pharmaceutical stewardship policies that provide sustainable financing for comprehensive and convenient secure medicine return systems.
Clarifying the regulatory context for safe disposal of unwanted medicines.
Prescription and over-the-counter medicines can improve our health when they're used properly.  But abuse, poisonings and overdoses from these medicines is a serious problem.   The home medicine cabinet has become the new drug dealer, contributing to our nation's prescription drug abuse crisis.  It's not just an opioid problem – other prescription and over-the-counter medicines are also misused.
About one-third of medicines sold go unused for many reasons. Unwanted medicines in our homes increase risks of medicine misuse and poisonings.  Flushing waste medicines down the drain or putting medicines in the household trash adds to pharmaceutical pollution in our waterways.  Secure medicine take-back programs are the solution to these problems.
Secure medicine take-back programs are part of a comprehensive approach to preventing medicine abuse and unintentional poisonings.  And proper disposal keeps waste medicines from contributing to pharmaceutical pollution.
In pharmaceutical stewardship policies, the companies that produce the medicines finance and coordinate a convenient system for secure collection and environmentally sound disposal of leftover medicines.  Robust and comprehensive medicine take-back program can be provided through this dedicated funding from pharmaceutical manufacturers. Protecting our families and our environment.
Pharmaceutical Stewardship Policies
Learn more about pharmaceutical stewardship laws and how CEH Strategies can support your policy process.
Medicine Take-back Programs
Secure medicine take-back programs provide a critical and popular service in our communities and are part of a comprehensive approach to the medicine abuse epidemic. Learn more.
Regulatory Considerations
Understanding regulatory requirements for secure medicine return programs, including recent developments.
FROM THE BLOG ON THIS TOPIC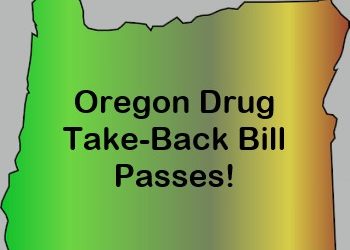 A fourth state Legislature has voted overwhelmingly for a pharmaceutical stewardship, a.k.a. extended producer responsibility, approach to providing convenient drug take-back services to all residents. After many years of discussion on the issue, the Oregon...
PHARMACEUTICAL STEWARDSHIP POLICIES
Stewardship policies require the pharmaceutical companies that manufacture medicines to finance and coordinate a convenient and secure collection system for consumers to properly dispose of unused medicines.  This policy approach is catching on at the county level in the U.S., and is already well-established in other countries including Canada and Mexico.
Without adequate and sustainable financing, secure medicine return programs cannot expand to more convenient locations, do not have resources for effective education and promotion, and don't have the capacity to handle the large amounts of leftover medicines from households.
Margaret Shield's experience with Pharmaceutical Stewardship.
Policy and advocacy leader of the successful campaign to pass Washington State's Secure Drug Take-Back Act in 2018!
Ten years of legislative and regulatory work at the state, local and federal levels, including researching the problem, crafting policy solutions, writing legislative language, building a diverse coalition of advocates, engaging stakeholders, and leading legislative campaigns.
Lead policy staff for development of the King County Board of Health's Secure Medicine Return Regulations, the model for other county ordinances in Washington and California.
Policy consultant to four local health jurisdictions for development of their Secure Medicine Return Regulations: the Snohomish Health District, the Tacoma-Pierce County Health Department, the Whatcom County Health Department and the Skagit County Public Health Department.
Learn more about WA's local drug take-back laws >
Currently working with local organizations and advocates across the country on policy development and implementation.
Helped lead national efforts to remove unintended barriers to take-back of controlled substances that resulted in passage of the Secure & Responsible Drug Disposal Act of 2010 and the DEA's Rule in 2014.
Collaborating with experts and advocates across Washington State and the U.S. since 2008 on pharmaceutical stewardship policies, medicine take-back programs, and preventing medicine misuse and pharmaceutical pollution.
Background on Pharmaceutical Stewardship Comprehensive pharmaceutical stewardship ordinances have been enacted in nine counties and several cities in California, seven counties in Washington State, and one county in New York State, as of March 2018.  Legal challenges from pharmaceutical industry associations against the first two county laws were rejected by the federal courts.  With resolution of those lawsuits and finalization of the DEA's Rule for Disposal of Controlled Substances, the pace of passage of these county laws has increased.  The secure medicine return programs mandated under these laws are now operating in 4 WA counties and 7 CA counties, providing much greater convenience and access for residents through secure medicine drop boxes in pharmacies and clinics, as well as distribution of prepaid return mailers.
In 2018, the successful local policy model in Washington State was translated to the state level with passage of the WA Secure Drug Take-Back Act.
Want to understand pharmaceutical stewardship policies? Or working on a policy for your community?
I was honored to play a leading role in development of the policy of the WA Secure Drug Take-Back Act and development of five local pharmaceutical stewardship ordinances in WA state.
Contact me to discuss how I can help make your policy process successful by:
explaining the pharmaceutical stewardship policy approach to comprehensive and sustainably financed programs.
providing comprehensive background and analysis on key decision points and common questions.
examining policy options and customizing legislative language for your community.
addressing medicine take-back operations and key regulatory issues in the context of policy development.
developing an effective policy communications and outreach strategy.
Learn more about my Services
"Margaret's leadership, depth of technical information and breadth of knowledge was invaluable to advancing a local secure medicine return policy for Skagit County.  Her scope of expertise and experience was critical for working alongside a diverse team which included legal counsel and elected officials.  Margaret's awareness of policy and implementation issues helped us avoid pitfalls and customize a blue print that worked for our community.  Margaret is passionate and knowledgeable about her work, yet very flexible in her approach to assure that the end result reached our local goals."
SECURE MEDICINE TAKE-BACK PROGRAMS
Medicine take-back programs protect public health and the environment by reducing the amount of medicines available for misuse and keeping waste medicines out of waterways and water supplies.
Estimates are that one-third of prescription and over-the-counter medicines sold go unused. Unwanted medicines in our homes increase risks of medicine misuse and poisonings.  Improper disposal of medicines down the drain or in the household trash adds to pharmaceutical pollution in the environment.
Take-back programs collect unused medicines securely and destroy them safely at properly permitted incineration facilities. The FDA, DEA, and the EPA all recommend the use of medicine take-back programs as the safe way to dispose of leftover medicines.  Medicine take-back is safer than throwing medicines in the household trash, which is not secure, not recommended for controlled substances by the DEA, and does not ensure the pharmaceuticals won't be released into the environment through landfill leachate.
Medicine take-back programs work, but often are not available in all communities or cannot support enough convenient drop-off locations. Existing programs struggle for ongoing financing and are a burden on over-stretched local law enforcement, city, and county budgets.  Some jurisdictions are adopting pharmaceutical stewardship policies to require medicine manufacturers to finance and coordinate drug take-back programs, as they already do in other countries.
Exploring medicine take-back program options for your community?
Contact me to jump start your process by explaining how medicine take-back programs work and connecting you with resources, including information about:
public health and environmental concerns with leftover medicines.
options for secure collection, transport, and environmentally sound disposal.
key regulatory considerations.
costs and funding considerations.
policy and legislative approaches for comprehensive and sustainable programs.
Learn more about my Services
REGULATORY CONSIDERATIONS
Regulatory compliance is a key consideration for residential medicine take-back programs must be operated under regulations from federal, state, and local authorities on secure handling, transport, and disposal of waste medicines.  These regulations are important for security, safety, and protecting our environment.
In recent years, there have been key developments in this arena to remove unintentional regulatory barriers, notably the DEA's Rule on Disposal of Controlled Substances as well as changes to many state laws.  These changes make it easier to operate convenient and secure medicine return programs.
Background on Regulations for Medicine Take-back Programs
Prior to the DEA Rule for Disposal of Controlled Substances, leftover or expired controlled substances – such as prescription narcotics and stimulants – could only be legally collected from residents by law enforcement. Through collection events or drop-off programs.
The Secure and Responsible Drug Disposal Act was signed into law in October 2010.  It amended the Controlled Substances Act and authorized the DEA to develop the new Rule, which was finally issued in October 2014.  The law and the Rule remove key barriers to operating take-back programs, but do not mandate the creation of any medicine take-back programs, nor does it provide any funding for those programs.  The Rule expands allowed options for collecting controlled substances from individuals and their family members for safe destruction by secure medicine return programs.  The new options are more convenient for residents and even more effective in reducing misuse or improper disposal of leftover household medicines.
Trying to make sense of the regulations?
I can orient your organization to the regulatory context for residential medicine take-back programs, saving you time and resources.  I can also research specific regulatory questions and work with agencies to identify workable solutions to regulatory challenges.
Learn more about my Services