Healthier Air
No Smoking & No Vaping policies. Vapor Products Regulations. Healthier air.
How Community Environmental Health Strategies works for Healthier Air
Working with local health departments and elected officials to develop effective local No Vaping in Public Places policies.
Explaining the dynamic regulatory context for sales and use of e-cigarettes and vapor products at the state and federal levels.
Advocating for effective, evidence-based strategies to prevent youth use of e-cigarettes, vapor products, and tobacco products.
The kind of questions we answer:
How do recent laws and regulations begin to tame the still largely unregulated vape marketplace?
What are the boundaries and opportunities for local public health policies regulating vaping and vapor products?
What are the public health concerns about Vaping & Vapor Products?
Youth use of e-cigarettes and vape pens has increased dramatically in recent years, resulting in more young people addicted to nicotine.
Allowing vaping in public places where smoking is prohibited implies that vaping is safe, contributing to the problem of rapidly increasing youth use of e-cigarettes and vapor devices.
Vaping exposes people nearby to an aerosol containing a mixture of harmful and potentially harmful chemicals. Children, pregnant women, and individuals with compromised lungs are especially at risk.
E-cigarettes and other vapor products have not been approved as smoking cessation aides. More research is needed to fully understand how use of e-cigarettes impacts smoking rates.Some studies show that smokers who switch to vaping have less success quitting nicotine entirely than smokers who use an evidence-based smoking cessation method.
Children are at risk of poisonings if they ingest or touch concentrated liquid nicotine e-juices or other drugs used in vapor products.
Defective batteries in these largely unregulated devices have caused explosions and serious burns.
No Vaping in Public Places Policies
Many communities have adopted policies prohibiting vaping in the same places where smoking is prohibited.
Vapor Products Regulations
Federal and Washington State regulations on sales and use of E-Cigarettes and Vapor Products.
FROM THE BLOG ON THIS TOPIC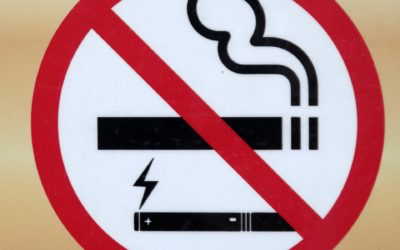 As the youth vaping epidemic continues and public health officials scramble to figure out serious lung illnesses and deaths linked to vaping, the local Boards of Health in Skagit and Jefferson counties have taken action to prohibit vaping in public. With these policy...
NO VAPING IN PUBLIC PLACES POLICIES
No Vaping in Public Places Policies in Washington State
Washington State's 2016 Vapor Products law (RCW 70.345 and WAC 314-35) prohibits vaping in a few public places, focused on protecting children. By state law, vaping is prohibited:
• inside and around schools and child care facilities.
• in outdoor playgrounds during daylight hours with children present.
• inside school buses and inside elevators.
Local authority: The WA Vapor Products law authorizes local jurisdictions to restrict the use of vapor products in indoor public places and in outdoor public places where children congregate.
As of November 2019, twelve counties in WA and a number of cities have adopted no vaping in public places laws. Generally, these local laws prohibit vaping any substance in the same indoor places where smoking is prohibited. Four of these ordinances also prohibit vaping in outdoor places where children congregate, like parks, athletic fields, and beaches.
At the county level, No Vaping in Public Places laws have been enacted by the local Boards of Health in twelve of Washington's thirty-nine counties under their authority to protect the public health. These regulations were established by the local Boards of Health and local health departments in Clark, Grant, Jefferson, King, Kitsap, Kittitas, Pierce, San Juan, Skagit, Snohomish, Spokane, and Whatcom counties.
About 75% of Washington residents live in areas where use of vapor products is prohibited in public places under these local Board of Health regulations.
I've worked to develop the policy and supporting evidence for the vaping ordinances in Snohomish, Whatcom. Skagit, and Jefferson counties, and more local ordinances are in the works.
Thinking about developing a local policy on vaping in public places?
Contact me to discuss how I can help make your policy process successful by:
providing comprehensive background and analysis on key issues and common questions.
explaining policy options and drafting or reviewing legislative language.
developing an effective policy communications and outreach strategy.
Learn more about my Services and contact me for details about how I have worked with four local health departments in WA to make their local ordinance process effective and successful.
VAPOR PRODUCT REGULATIONS
Background on Regulations on Sales and Use of E-Cigarettes & Vapor Products
Federal E-cigarettes and other vapor products were largely unregulated at the federal level until 2016 when the FDA finalized its Deeming Rule to regulate electronic nicotine delivery systems (ENDS) as tobacco products under the Tobacco Control Act. ENDS, or vapor products, include:e-cigarettes, e-hookahs, vape pens, and all other battery-operated products that use heat to create an aerosol. The Deeming Rule also applies to other types of nicotine-containing products: pipe tobacco, hookah tobacco, cigars, dissolvable tobacco products, nicotine gels, and other novel and future tobacco products.
Some aspects of the FDA's Deeming Rule have taken effect since August 2016, such as:
Prohibiting retail and internet sales of vapor products to minors under 18 nationwide, and requiring ID checks.

A number of states have raised the minimum age for tobacco and e-cigarettes to 21. Washington State's new Tobacco 21 law takes effect January 1, 2020.

Prohibiting sales of vapor products through vending machines or self-service devices, except where minors are prohibited.
Prohibiting give-aways of free product samples containing nicotine.
Prohibiting false or misleading advertising for vapor products, including prohibiting health claims.
Requiring warning labels, including at a minimum: "WARNING: This product contains nicotine. Nicotine is an addictive chemical."
Also in 2016, the federal Child Nicotine Poisoning Prevention Act began requiring childproof packaging for nicotine e-liquids.
Other key parts of the FDA's Deeming Rule have not yet been implemented. Timelines in the original rule were pushed back by the FDA in a July 2017 announcement. These delays mean there is still no pre-market regulation of specific vapor products. That deadline has been pushed back to August 2022.  Check the FDA's website for current deadlines.
The FDA's Deeming Rule preempts some state and local regulation of vapor products, but many state and local actions are still allowed.States, and local jurisdictions (depending on the state) can, for example, tax vapor products, regulate sales, and require information reporting from manufacturers..
The FDA Deeming Rule does not regulate the use of vapor products in public places. States and local jurisdictions can prohibit vaping in public places. Across the country, many states and hundreds of cities have added vaping to their smoke-free laws.
Washington State The WA Vapor Products law, RCW 70.345, took effect in June 2016 to regulate sales of vapor products to reduce youth access and establish a licensing system for vapor product retailers and distributors. My summary handout gives the highlights, with a focus on what local jurisdictions can and cannot do under this state law: Overview of WA Vapor Products Law.
The WA law requires a license for retailers and distributors of vapor products and establishes a licensing fee. The 2016 law also applied many of the sales restrictions that are well-established for cigarettes to vapor products, including photo id checks and signage at point-of-sale, no coupons for free products, no vending machine sales (unless minors are not allowed in the area).  Many of these same sales restrictions became federal requirements under the FDA's Deeming Rule.
To address nicotine poisonings from potent e-juices, the WA law requires warning label statements, childproof packaging, and disclosure of nicotine content. Some of these requirements in the WA law have now been superseded by similar federal regulations.
Washington's state laws regulating tobacco and vapor products preempt local regulation of product sales, limiting the actions that local jurisdictions can consider for prevention and control. Local jurisdictions are also preempted from local enforcement actions on sales restrictions, leaving all enforcement of the state laws to the Washington State Liquor and Cannabis Board.
However, local jurisdictions in Washington State retain authority to restrict the use of vapor products in public places. The WA Vapor Products law prohibits vaping in a few public places, focused on protecting children, but otherwise leaves regulation of vaping in public places to local jurisdictions.
Learn more about No Vaping in Public Places Policies in Washington State.
Trying to make sense of the regulations?
I can orient your organization to the regulatory context for vapor products, saving you time and resources.  I can also research specific regulatory questions and options.
Learn more about my Services